BRAZILIA Sitio Nossa Senhora Aparecida, Natural, 250g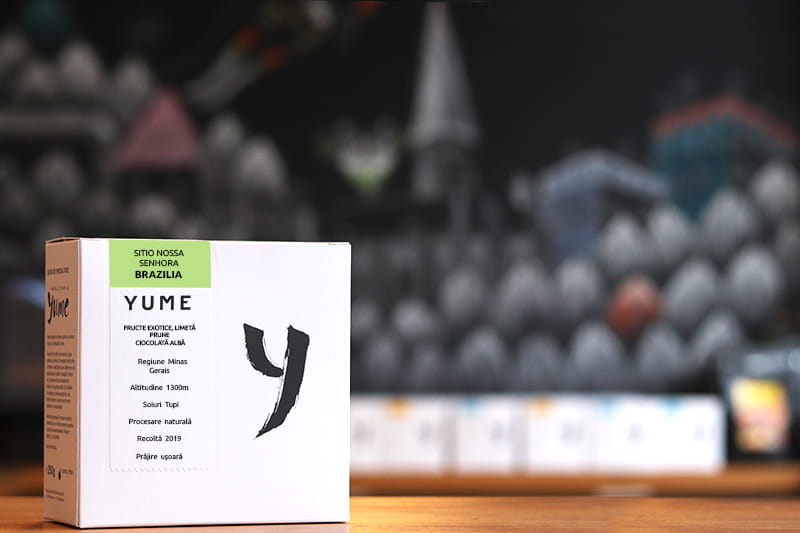 BRAZILIA Sitio Nossa Senhora Aparecida, Natural, 250g
Fresh roasted coffee
This product is no longer available.

Weight: 250g
Grind size: whole beans
Roast profile: espresso
Țară de origine: Brazilia
Producător: Sergio Lange
Regiune: Divinolandia, Minas Gerais
Altitudine: 1300 m
Soi: Tupi
Metodă de procesare: naturală
Recoltă: Iunie - Iulie 2019
Note de degustare: fructe exotice, limetă, prune, ciocolată albă

Sergio este unul dintre cei mai activi membri ai APROD, o asociație formată dintr-un grup de fermieri mici care locuiesc în jurul orașului Divinolandia. Cafelele acestor mici producători sunt excepționale, fiind rezultatul unor standarde stricte de control a calității și trasabilității.
Majoritatea populației din zonă are origini italiene și datorită lor s-a dezvoltat cultura cafelei în Brazilia.
Asociația are 85% dintre membri certificați "Fairtrade", acest lucru îi ajută să implementeze un timp de management care combină tehnologiile agricole și forestiere pentru a crea un sistem de utilizare a terenului în mod diversificat, productiv, profitabil, sănătos și durabil.
Acest soi de Coffea Arabica, Tupi, este unul rar, denumit și Obatã, iar notele de degustare exotice, citrice și dulci sunt rar întâlnite la microloturile din Brazilia. Dulceața este similară cu cea a ciocolatei albe.

Coffee presentation sheet [pdf]
100% Arabica specialty coffee grown in a specific geographical zone, carefully harvested, processed, selected and freshly roasted in small batches according to it's origin and processing characteristics.
Fast countrywide delivery (Romania), usually within 1-3 working days. The shipping fee is a flat rate of 10 lei*. We also offer free shipping * for all orders starting from 1kg of roasted coffee. Cool, right?
* above conditions apply only for orders within Romania.
We're doing our best so that you can enjoy the coffees on offer. This is why each of our coffees comes with a guarantee of satisfaction according to this policy. You're welcome!