COLOMBIA Finca Juan Martin, Washed, extremely light roast, 150g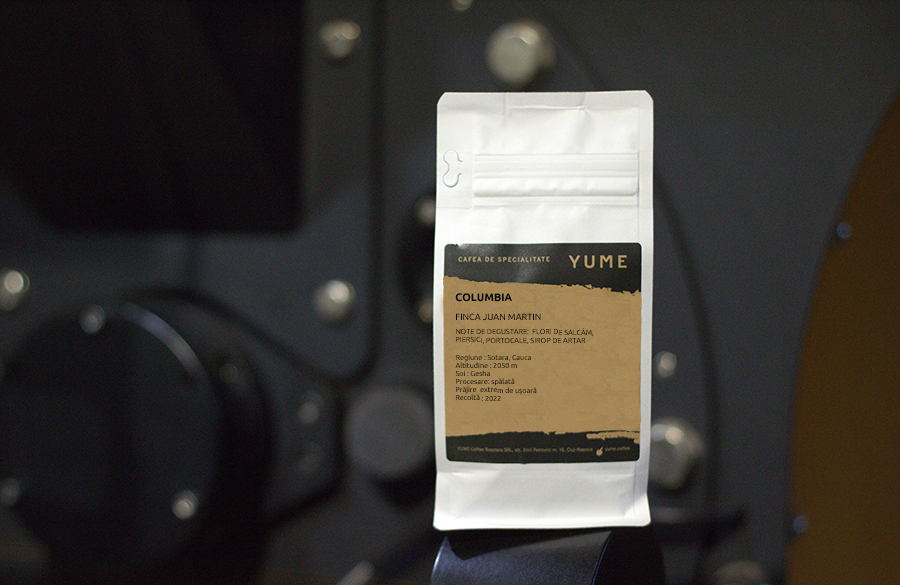 COLOMBIA Finca Juan Martin, Washed, extremely light roast, 150g
Fresh roasted coffee
This product is no longer available.

Weight: 150g
Grind size: whole beans
Roast profile: filter
WE DON`T RECOMMEND ESPRESSO PREPARATION FOR THIS COFFEE. EXTREMELY LIGHT ROAST IS FOR BREW LOVERS.


Origin: Colombia
Farm/Producer: Juan Martin
Region: Sotara, Cauca
Altitude: 2050 m
Variety: Gesha
Processing: washed
Crop: 2022
Cupping notes: acacia flowers, peaches, oranges, maple syrup.


The washing station Juan Martin is owned and operated by Banexport and is located in the highest area of Sotara, just 30 minutes from the capital of Popayan in Cauca.
The farm provides jobs for community members to develop proper practices for each step and optimal coffee quality.
Cherries are grown, harvested and processed respecting the highest standards of quality, organization and control. Depending on the ambient conditions and the specific needs of each variety, the Brix level and humidity are measured to achieve the desired characteristics in the cup.
In the cup we discover a special aromatic profile, with notes of acacia flowers, peaches, oranges and a sweet hint of maple syrup.
100% Arabica specialty coffee grown in a specific geographical zone, carefully harvested, processed, selected and freshly roasted in small batches according to it's origin and processing characteristics.
Fast countrywide delivery (Romania), usually within 1-3 working days. The shipping fee is a flat rate of 10 lei*. We also offer free shipping * for all orders starting from 1kg of roasted coffee. Cool, right?
* above conditions apply only for orders within Romania.
We're doing our best so that you can enjoy the coffees on offer. This is why each of our coffees comes with a guarantee of satisfaction according to this policy. You're welcome!