ETIOPIA Aramo Gr1, Yirgacheffe, Natural,125g, prăjire extrem de ușoară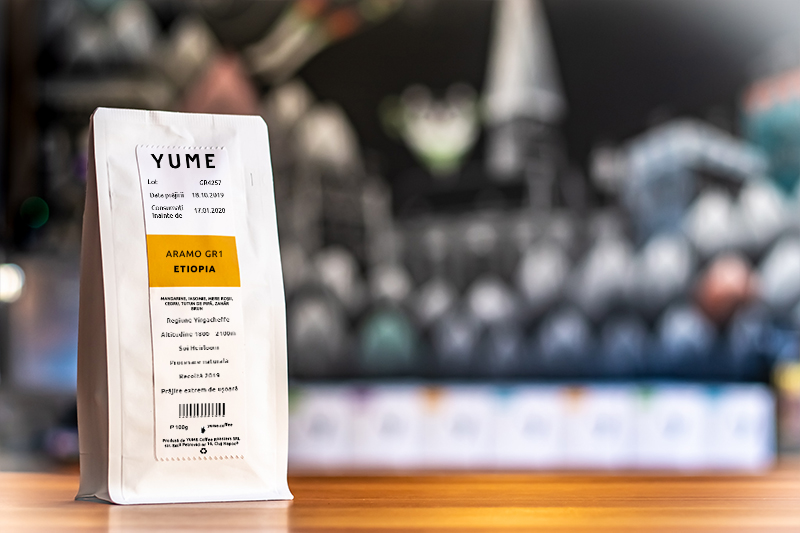 ETIOPIA Aramo Gr1, Yirgacheffe, Natural,125g, prăjire extrem de ușoară
Fresh roasted coffee
This product is no longer available.

Weight: 125g
Grind size: whole beans
Roast profile: filter
Țară de origine: Etiopia
Producător: Stația de procesare Aramo
Regiune: Yirgacheffe
Altitudine: 1800 - 2100m
Soi: Heirloom
Metodă de procesare: Naturală
Recoltă: Ianuarie - Februarie 2019
Note de degustare: Mandarine, iasomie, mere roșii, cedru, tutun de pipă, zahăr brun

Datorită dimensiunilor mici ale fermelor din acest district, numeros ca membri, cafeaua este singura cultură profitabilă. Fermele sunt în general la a treia generație. Comunitatea funcționează ca o rețea de suport. Toți membri se alătură unui sistem numit ECUB, care constă în economii de grup. În fiecare săptămână sau lună membrii contribuie cu sume egale la fondul colectiv, acesta este folosit pentru salvarea persoanelor aflate în dificultate. Fondul poate fi folosit și pentru a construi case pentru cei care au nevoie, de exemplu.

Andualem Shiferaw, director adjunct al YCFCU, spune că toate cafelele produse de Aramo Yirgacheffe grade 1 sunt excepționale datorită experienței cooperatiste și a lucrătorilor bine pregătiți, responsabili cu mediul. Mai vechi decât numeroase cooperative locale, managerul de control al calității Aramo este în echipă de 12 ani, la fel ca operatorul de mașini. Spre deosebire de multe alte stații de procesare care nu își tratează apele, Aramo se mândrește cu faptul că își păstrează curat râul local, Lakisha.

Aromele pe care le-am regăsit în această cafea complexă sunt variate, de la citrice dulci la mere roșii, de la iasomie la cedru și tutun aromat
Coffee presentation sheet [pdf]
100% Arabica specialty coffee grown in a specific geographical zone, carefully harvested, processed, selected and freshly roasted in small batches according to it's origin and processing characteristics.
Fast countrywide delivery (Romania), usually within 1-3 working days. The shipping fee is a flat rate of 10 lei*. We also offer free shipping * for all orders starting from 1kg of roasted coffee. Cool, right?
* above conditions apply only for orders within Romania.
We're doing our best so that you can enjoy the coffees on offer. This is why each of our coffees comes with a guarantee of satisfaction according to this policy. You're welcome!