HONDURAS Blanca Rosa Melgar, 90h Macerated Natural, extremely light roast, 250g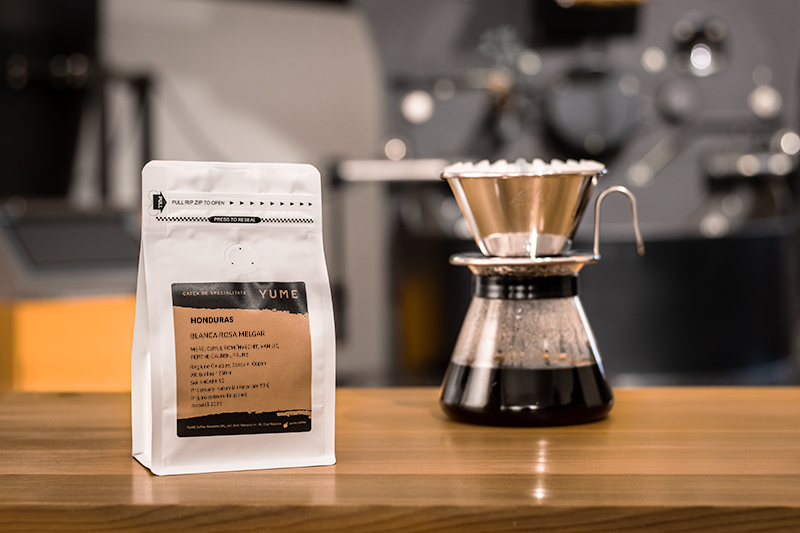 HONDURAS Blanca Rosa Melgar, 90h Macerated Natural, extremely light roast, 250g
Fresh roasted coffee
This product is no longer available.

Weight: 250g
Grind size: whole beans
Roast profile: filter
WE DON`T RECOMMEND ESPRESSO PREPARATION FOR THIS COFFEE. EXTREMELY LIGHT ROAST IS FOR BREW LOVERS.

Origin: Honduras
Farmer: Blanca Rosa Melgar
Region: Celaque, Corquin, Copan
Altitude: 1250 m
Variety: IHCAFE 90
Processing: 90h macerated, natural
Crop: 2020
Cupping notes: apples, quince, aged rum, vanilla, melon, plums.

Blanca Rosa Melgar is the owner of 6 hectares of coffee in the Celaque area of Corquin, Copan. Blanca manages the farm with her husband, Arturo, and the couple have lived there since the 1970s. The farm is and has always been organic and Blanca and Arturo refused to apply any chemicals to the land. Amongst the coffee they grow several varieties of banana, orange, lemon and lime, guava and whole array of native vegetables.

Blancas sons Osman and Francis both work in the cooperative and have been part of the micro-lot project since the start. As they have seen huge increases in their household income, Blanca decided to produce as many micro-lots as possible.

Given the altitude and the varieties they grow, it was decided that naturals would best suit the profile of the farm and they have had great success elevating the cup quality with processing. This is the third year that Blanca has produced micro lots through the cooperative who know have 38 members in the micro lot program that has grown from just 4 in the past 4 years.
Coffee presentation sheet [pdf]
100% Arabica specialty coffee grown in a specific geographical zone, carefully harvested, processed, selected and freshly roasted in small batches according to it's origin and processing characteristics.
Fast countrywide delivery (Romania), usually within 1-3 working days. The shipping fee is a flat rate of 10 lei*. We also offer free shipping * for all orders starting from 1kg of roasted coffee. Cool, right?
* above conditions apply only for orders within Romania.
We're doing our best so that you can enjoy the coffees on offer. This is why each of our coffees comes with a guarantee of satisfaction according to this policy. You're welcome!