INDONESIA Tumiro x Erna Manis #7, Natural, 250g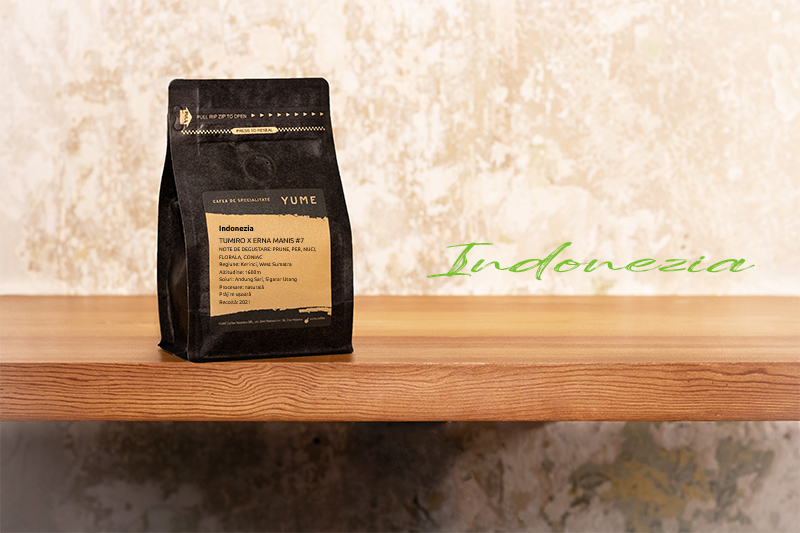 INDONESIA Tumiro x Erna Manis #7, Natural, 250g
Fresh roasted coffee
This product is no longer available.

Weight: 250g
Grind size: whole beans
Roast profile: espresso
Origin: Indonesia
Farm/Producer: Tumiro x Erna Manis #7
Region: Kayu Aro, Kerinci, West Sumatra
Altitude: 1600 m
Variety: Andung Sari, Sigarar Utang
Processing: natural
Crop: 2021
Cupping notes:plums, pears, nuts, floral, cognac


The cherries in this lot were grown at an altitude of 1600 meters, at the foot of Mount Kerinci and collected by Tumiro and Erna. They reach the Alko cooperative, which owns about 416 members and 320 hectares of land. Coffee is grown here at altitudes between 1300 and 1650 meters, mainly Sigararutang and Andung Sari.
This year marks the first crop where we were able to divide Kerinci's cherry coming into the station into separate farmers.
The coffee cherries are floated and sorted, then dried as one layer in green houses for the first 5 days. Then they slowly build up the layers. Drying takes around 25 days in total.
We find in the cup intensely fruity notes of plums and pears, followed by floral notes and nuts, and the cognac aftertaste contributes to the special complexity of this lot.

100% Arabica specialty coffee grown in a specific geographical zone, carefully harvested, processed, selected and freshly roasted in small batches according to it's origin and processing characteristics.
Fast countrywide delivery (Romania), usually within 1-3 working days. The shipping fee is a flat rate of 10 lei*. We also offer free shipping * for all orders starting from 1kg of roasted coffee. Cool, right?
* above conditions apply only for orders within Romania.
We're doing our best so that you can enjoy the coffees on offer. This is why each of our coffees comes with a guarantee of satisfaction according to this policy. You're welcome!