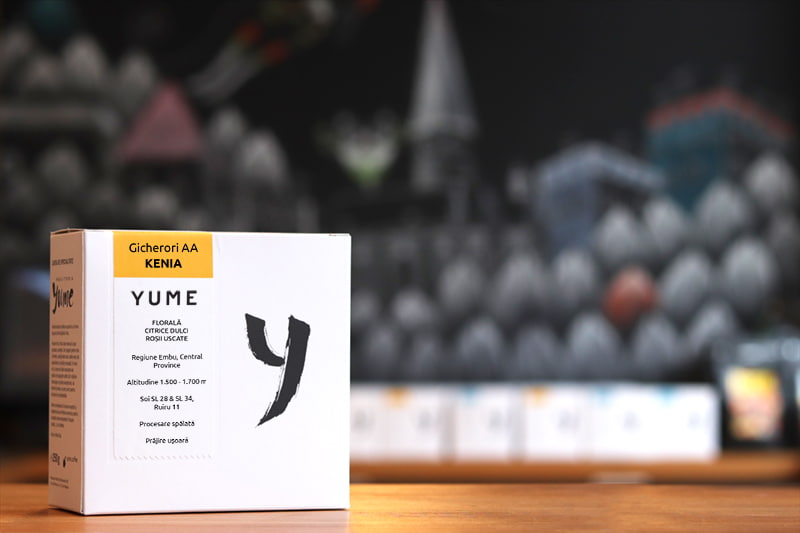 KENIA Gicherori AA, 250g
Fresh roasted coffee
This product is no longer available.

Weight: 250g
Grind size: whole beans
Roast profile: espresso
Țară de origine: Kenia
Producător: Gicherori
Regiune: Embu, Central Province
Altitudine: 1500m – 1700 m
Soiuri: SL 28 & SL 34, Ruiru 11
Metodă de procesare: spălată
Note de degustare: florală, citrice dulci, roșii uscate

Suprafața totală cultivată cu cafea în Kenya este estimată la 160.000 de hectare, terenurile cultivate ocupând aproximativ o treime din suprafața totală, cea mai mare parte a terenurilor aparținând fermierilor mici, asociați în cooperative.

Acest lot de cafea provine de la stația de procesare din Gicherori, lângă Embu, în Central Province, situată pe frumoasele pante sudice ale Muntelui Kenya. Această regiune este renumită pentru bogatele sale soluri de argilă vulcanică dar și pentru microclimatul propice, cu ploi abundente. Gicherori aparține de Societatea Cooperativă a Fermierilor din Kibugu, împreună cu Kathkwa, Ndunduri, Gikirima și Ngerwe. Aproximativ 1100 fermieri își livrează cireșele la stația de procesare Gicherori. Aici cireșele de cafea sunt decorticate cu un utilaj pe discuri, după care boabele sunt transferate într-un recipient pentru procesul de fermentare controlată. În urma acestui proces, cafeaua se spală și se înmoaie în canale cu apă și în cele din urmă se usucă pe paturile înălțate până la 15 zile, fiind acoperite cu atenție în timpul zilei dar și pe parcursul nopții.
Profilul aromatic și gustativ este unul deosebit, cu note florale, citrice dulci și roșii uscate, iar punctajul SCA îl reflectă: 90.






Coffee presentation sheet [pdf]
100% Arabica specialty coffee grown in a specific geographical zone, carefully harvested, processed, selected and freshly roasted in small batches according to it's origin and processing characteristics.
Fast countrywide delivery (Romania), usually within 1-3 working days. The shipping fee is a flat rate of 10 lei*. We also offer free shipping * for all orders starting from 1kg of roasted coffee. Cool, right?
* above conditions apply only for orders within Romania.
We're doing our best so that you can enjoy the coffees on offer. This is why each of our coffees comes with a guarantee of satisfaction according to this policy. You're welcome!