KENYA Marumi AA, Washed, prăjire extrem de ușoară, 250g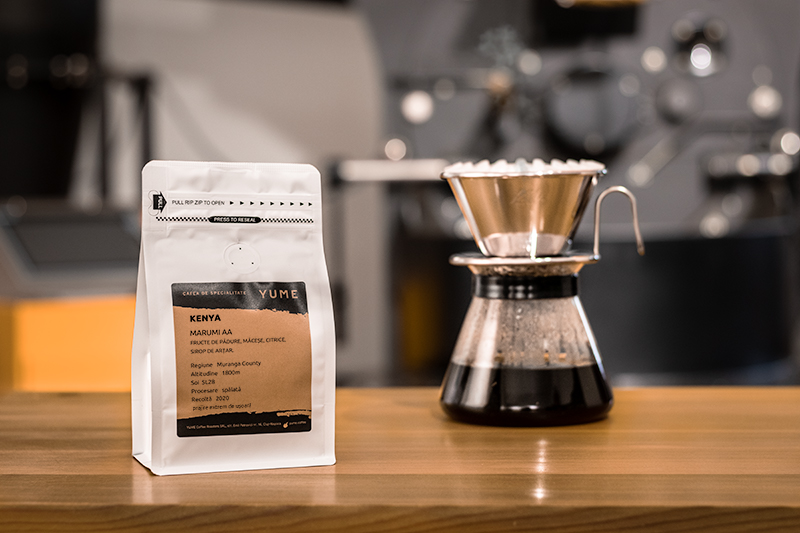 KENYA Marumi AA, Washed, prăjire extrem de ușoară, 250g
Fresh roasted coffee
This product is no longer available.

Weight: 250g
Grind size: whole beans
Roast profile: filter
NU RECOMANDĂM PREPARAREA ESPRESSO PENTRU ACEASTĂ CAFEA. PRĂJIREA EXTREM DE UȘOARĂ ESTE DESTINATĂ IUBITORILOR DE FILTRU MANUAL.

Țară de origine: Kenya
Producător: Marumi
Regiune: Muranga County
Altitudine: 1800m
Soi: SL-28
Metodă de procesare: spălată
Recoltă: 2021
Note de degustare: fructe de pădure, măceșe, citrice, sirop de arțar.

În Kenya, fermele de mici dimensiuni sunt foarte des întâlnite, iar stațiile de procesare sunt situate în zone accesibile pentru fermieri. De obicei acestea au un sistem de management cooperativ, iar dedicarea echipei poate avea un impact considerabil asupra profilului cafelei. Colaborările avantajează fermierii prin facilitatea accesului la echipamente pe care nu și le-ar permite pe cont propriu, precum și expunere pe piețele externe.

Societatea Cooperativă a Fermierilor Marumi, producătoarea acestui lot de cafea, deține trei stații de procesare, Marumi, Iriguini și Mariira și primește cafea de la aproximativ 1500 de mici fermieri.

Județul Muranga, care găzduiește stația Marumi, se află la sud de Muntele Kenya, nu departe de poalele lanțului Aberdare. A fost înființată în 1979, iar în prezent are sub aripă aproximativ 650 de membri.

Profilul aromatic al cafelei din ceașcă este unul fructat, cu note de măceșe, citrice, fructe de pădure și indulcit cu o notă finală de sirop de arțar.
100% Arabica specialty coffee grown in a specific geographical zone, carefully harvested, processed, selected and freshly roasted in small batches according to it's origin and processing characteristics.
Fast countrywide delivery (Romania), usually within 1-3 working days. The shipping fee is a flat rate of 10 lei*. We also offer free shipping * for all orders starting from 1kg of roasted coffee. Cool, right?
* above conditions apply only for orders within Romania.
We're doing our best so that you can enjoy the coffees on offer. This is why each of our coffees comes with a guarantee of satisfaction according to this policy. You're welcome!