PANAMA Pedro Rodriguez Escribano, Baru Black Mountain, Pacamara, Natural, extremely light roast 150g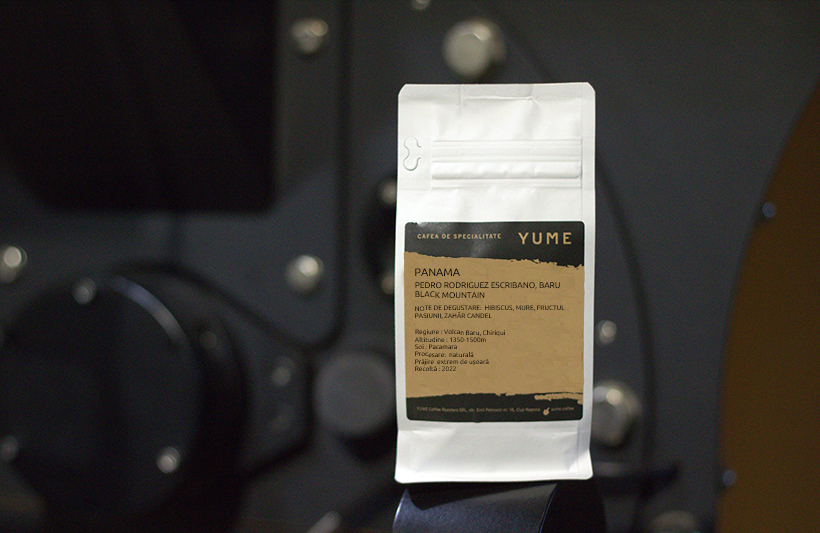 PANAMA Pedro Rodriguez Escribano, Baru Black Mountain, Pacamara, Natural, extremely light roast 150g
Fresh roasted coffee

Weight: 150g
Grind size: whole beans
Roast profile: filter
WE DON`T RECOMMEND ESPRESSO PREPARATION FOR THIS COFFEE. EXTREMELY LIGHT ROAST IS FOR BREW LOVERS.

Origin: Panama
Farm/Producer: Pedro Rodriguez Escribano, Baru Black Mountain
Region: Volcan Baru , Chiriqui
Altitude: 1350-1500 m
Variety: Pacamara
Processing: natural
Crop: 2022
Cupping notes: hibiscus, mure, fructul pasiunii, zahăr candel


This coffee is produced at the Baru Black Mountain farm, situated at an altitude of between 1,350 and 1,500 metres in Chiriqui Province. It benefits from ideal production conditions, in terms of both its environment and climate. Grown in mineral-rich volcanic soil under natural shade, the cherries are harvested selectively by hand and dried by dehydration
using a system of African beds placed inside an oven. An innovative preparation technique that gives this well-balanced and aromatically complex coffee its characteristic sweetness.
The Baru Black Mountain farm is not only committed to environmentally-friendly farming practices, by using stream water to wash its harvested cherries for example, but also respects its workers, who receive medical and educational support for their families.Rodriguez Escribano is a former entrepreneur in the printing industry. After a successful career in Spain, he decided to invest in Panama.






100% Arabica specialty coffee grown in a specific geographical zone, carefully harvested, processed, selected and freshly roasted in small batches according to it's origin and processing characteristics.
Fast countrywide delivery (Romania), usually within 1-3 working days. The shipping fee is a flat rate of 10 lei*. We also offer free shipping * for all orders starting from 1kg of roasted coffee. Cool, right?
* above conditions apply only for orders within Romania.
We're doing our best so that you can enjoy the coffees on offer. This is why each of our coffees comes with a guarantee of satisfaction according to this policy. You're welcome!