PERU Alberto Frias Chuquicahua, 250g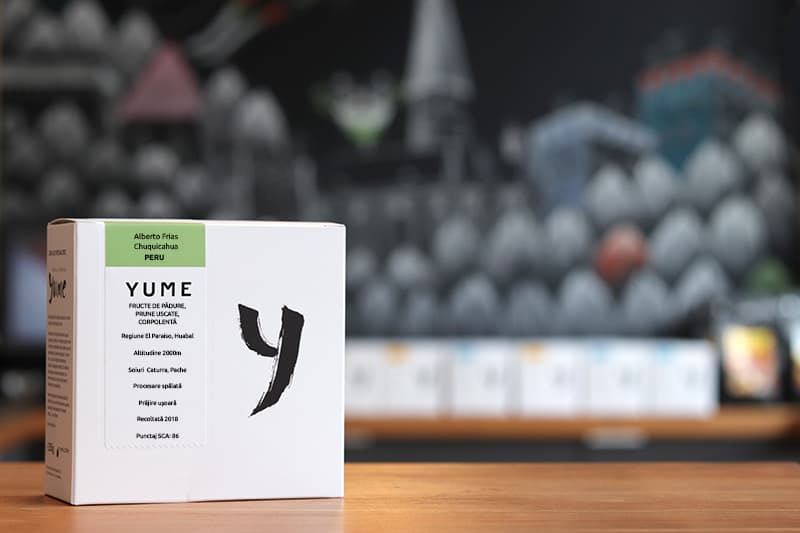 PERU Alberto Frias Chuquicahua, 250g
Fresh roasted coffee
This product is no longer available.

Weight: 250g
Grind size: whole beans
Roast profile: espresso
Țară de origine: Peru
Producător: Alberto Frias Chuquicahua
Regiune: El Paraiso, Huabal
Altitudine: 2000m
Soiuri: Caturra, Pache
Metodă de procesare: spălată
Note de degustare: fructe de pădure, prune uscate, corpolentă,

Fermierul Alberto Frias Chuquicahua deține un hectar și jumătate de teren în satul El Paraiso, regiunea Huabal. Suprafața este cultivată în mare parte cu soiul Caturra, dar și puțin Pache, aflându-se la o altitudine de 2000m. Ferma lui Alberto este una din puținele din zonă situate la această înălțime, ceea ce se reflectă în caracterul complex al profilului aromatic, cu nuanțe de prune uscate, fructe de pădure, o aciditate plăcută și un corp generos.
Alberto își culege singur cireșele de cafea, după care le procesează acasă, ajutat de un decorticator manual, urmând apoi să le pună la uscat pe terase, care în prealabil sunt acoperite cu prelate.
Cu ceva timp în urmă, Albero vindea cafeaua unui client local care îl plătea în funcție de aspectul boabelor de cafea, profitul obținut fiind unul foarte mic, reușind să investească foarte puțin în dezvoltarea fermei. Din fericire, anul acesta aproape și-a triplat veniturile, ca urmare a accesului pe piața cafelei de specialitate, prețul cafelei fiind stabilit în funcție de calitățile ei aromatice.


Coffee presentation sheet [pdf]
100% Arabica specialty coffee grown in a specific geographical zone, carefully harvested, processed, selected and freshly roasted in small batches according to it's origin and processing characteristics.
Fast countrywide delivery (Romania), usually within 1-3 working days. The shipping fee is a flat rate of 10 lei*. We also offer free shipping * for all orders starting from 1kg of roasted coffee. Cool, right?
* above conditions apply only for orders within Romania.
We're doing our best so that you can enjoy the coffees on offer. This is why each of our coffees comes with a guarantee of satisfaction according to this policy. You're welcome!