PERU Presbitero Herrera Torres, Natural, prăjire extrem de ușoară, 250g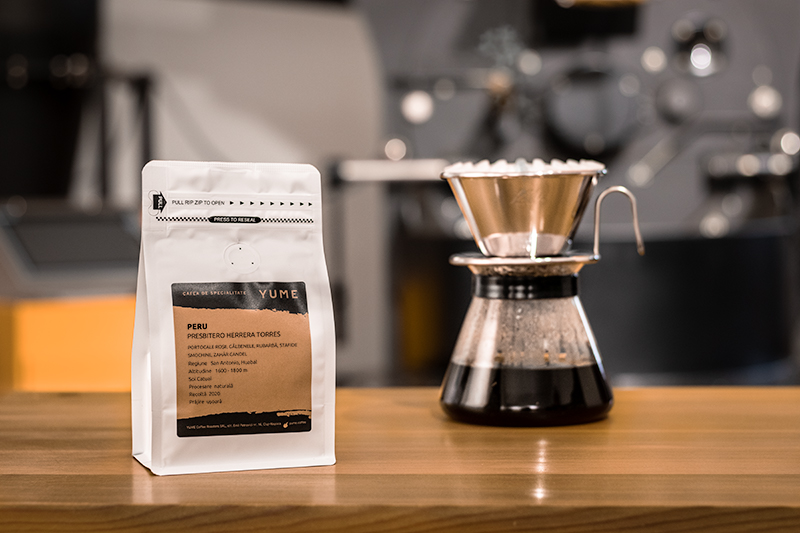 PERU Presbitero Herrera Torres, Natural, prăjire extrem de ușoară, 250g
Fresh roasted coffee
This product is no longer available.

Weight: 250g
Grind size: whole beans
Roast profile: filter
NU RECOMANDĂM PREPARAREA ESPRESSO PENTRU ACEASTĂ CAFEA. PRĂJIREA EXTREM DE UȘOARĂ ESTE DESTINATĂ IUBITORILOR DE FILTRU MANUAL.

Țară de origine: Peru
Producător: Presbitero Herrera Torres
Regiune: San Antonio, Huabal
Altitudine: 1600 - 1800 m
Soi: Catuai
Metodă de procesare: naturală
Recoltă: 2020
Note de degustare: portocale roșii, gălbenele, rubarbă, stafide aurii, smochine, zahăr candel.

Huabal este un district din provincia Jaén, regiunea Cajamarca și este recunoscut datorită calității loturilor provenite de aici.

Presbitero Herrera Torres a moștenit ferma de cafea din San Antonio de la tatăl său, iar în prezent aceasta se întinde pe o suprafață de 3 hectare, pe care sunt cultivate soiurile Catuai și Gran Colombia. Presbitero produce acum doar cafea cu procesare naturală.

Cireșele coapte sunt culese, spălate și uscate pe paturi înălțate timp de 25 până la 30 de zile. Fermierul preferă ocazional și cireșele prefermentate, acestea au o aciditate suplimentară și un profil aromatic mai fructat. Prefermentarea durează de obicei între 24 și 48 de ore, iar cireșele sunt macerate în saci.

Băutura preparată este o bucurie caldă, un amestec de note fructate de portocale roșii și stafide, combinate cu note dulci de zahăr candel și smochine.
Coffee presentation sheet [pdf]
100% Arabica specialty coffee grown in a specific geographical zone, carefully harvested, processed, selected and freshly roasted in small batches according to it's origin and processing characteristics.
Fast countrywide delivery (Romania), usually within 1-3 working days. The shipping fee is a flat rate of 10 lei*. We also offer free shipping * for all orders starting from 1kg of roasted coffee. Cool, right?
* above conditions apply only for orders within Romania.
We're doing our best so that you can enjoy the coffees on offer. This is why each of our coffees comes with a guarantee of satisfaction according to this policy. You're welcome!