RWANDA Huye Mountain Lot 948, 250g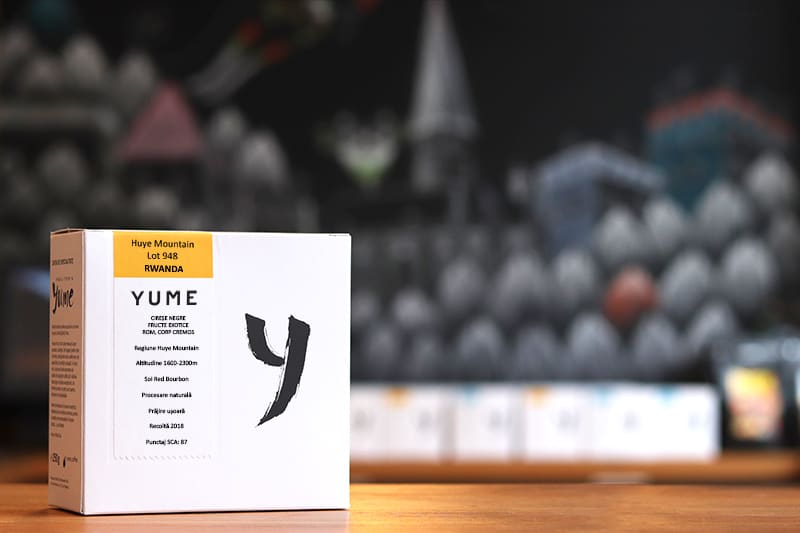 RWANDA Huye Mountain Lot 948, 250g
Fresh roasted coffee
This product is no longer available.

Weight: 250g
Grind size: whole beans
Roast profile: espresso
Țară de origine: Rwanda
Producător: David Rubanzangabo
Regiune: Huye District
Altitudine: 1600-2300m
Soi: Red Bourbon
Metodă de procesare: naturală
Note de degustare: cireșe negre. fructe exotice, rom, corp cremos

Aflată pe una din pantele muntelui Huye, în sudul Rwandei, această stație de procesare privată îi aparține lui David Rubanzangabo. De la înființarea ei în 2011, stația Huye recepționează fructe de cafea în perioada de recoltare de la aproximativ 1330 de mici producători. Un producător tipic regiunii are un sfert de hectar cu vreo 200 de arbuști, iar fiecare dintre aceștia produc în jur de 4 kg fructe de cafea.
Red Bourbon este singurul soi cultivat în regiune, care la aceste altitudini, între 1600 și 2300 de metri, oferă profiluri aromatice foarte complexe.
Înclinația lui David către calitate a crescut semnificativ veniturile fermierilor locali, iar confirmările nu au încetat să apară, unul din loturile procesate aici s-a situat în anul 2012 pe locul secund în competiția Cup of Excellence, iar în 2013 două loturi s-au aflat pe locul 6 și respectiv 11.
Pentru a încuraja calitatea, David premiază fermierii ale căror cafele obțin cele mai mari scoruri, cu vaci sau capre, care ridică semnificativ nivelul de trai al respectivei familii.
Procesarea se face prin naturală, după care cafeaua în pergament este uscată la soare pe paturi înălțate și întoarsă frecvent.

Coffee presentation sheet [pdf]
100% Arabica specialty coffee grown in a specific geographical zone, carefully harvested, processed, selected and freshly roasted in small batches according to it's origin and processing characteristics.
Fast countrywide delivery (Romania), usually within 1-3 working days. The shipping fee is a flat rate of 10 lei*. We also offer free shipping * for all orders starting from 1kg of roasted coffee. Cool, right?
* above conditions apply only for orders within Romania.
We're doing our best so that you can enjoy the coffees on offer. This is why each of our coffees comes with a guarantee of satisfaction according to this policy. You're welcome!