ETIOPIA Banko Gotiti Gr1, Natural, 250g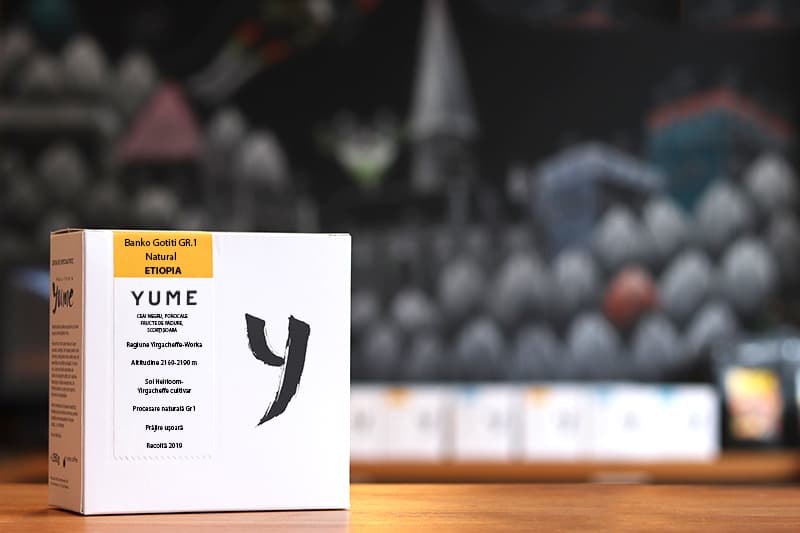 ETIOPIA Banko Gotiti Gr1, Natural, 250g
Fresh roasted coffee
This product is no longer available.

Weight: 250g
Grind size: whole beans
Roast profile: espresso
Țară de origine: Etiopia
Producător: Banko Gotiti
Regiune: Yirgacheffe-Worka
Altitudine: 2160 - 2190m
Soiuri: Heirloom-Yirgacheffe cultivar
Metodă de procesare: Naturală Gr. 1
Recoltă: Decembrie-Ianuarie 2019
Note de degustare: Ceai negru, portocale, fructe de pădure, scorțișoară

Banko Gotiti Gr1 provine de la ferme mici de familie organizate în jurul cooperativei cu același nume, situată în satul Banko Gotiti din sudul districtului Gedeb. Cooperativa a fost înființată în 2012 ca o entitate separată de mai marea cooperativă Worka și are în prezent aproximativ 300 de membri.

Banko Gotiti este bine cunoscută pentru cea mai bună selecție de cireșe de cafea din Etiopia.

Cireșele coapte sunt selectate cu grijă și așezate imediat pe paturi înălțate. Pentru un proces de uscare optim, aceste paturi sunt construite pentru a asigura circulația aerului și o temperatură optimă. De asemenea, cireșele sunt întoarse regulat pentru a preveni deteriorarea lor în timpul procesului de uscare, ulterior fiind transportate într-un depozit local unde umiditatea scade până la 11,5-12%, după care se trimite în Addis Abeba pentru decorticare uscată și export.
Caracterul ceștii este specific regiunii Yirgacheffe, cu note de ceai negru, citrice dulci, fructe de pădure și condimente.
Coffee presentation sheet [pdf]
100% Arabica specialty coffee grown in a specific geographical zone, carefully harvested, processed, selected and freshly roasted in small batches according to it's origin and processing characteristics.
Fast countrywide delivery (Romania), usually within 1-3 working days. The shipping fee is a flat rate of 10 lei*. We also offer free shipping * for all orders starting from 1kg of roasted coffee. Cool, right?
* above conditions apply only for orders within Romania.
We're doing our best so that you can enjoy the coffees on offer. This is why each of our coffees comes with a guarantee of satisfaction according to this policy. You're welcome!