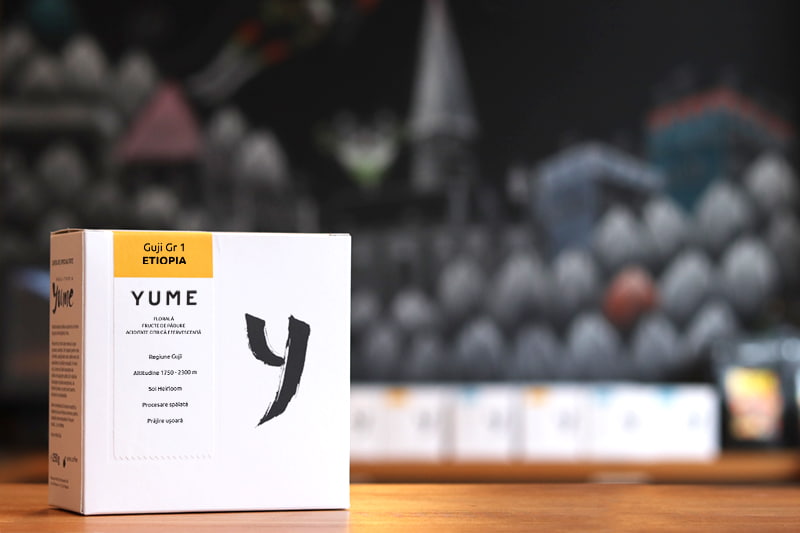 ETIOPIA Guji Gr 1, 250g
Fresh roasted coffee
This product is no longer available.

Weight: 250g
Grind size: whole beans
Roast profile: espresso
Țară de origine: Etiopia
Producător: Guji
Regiune: Guji
Altitudine: 1750 – 2300 m
Soi: Heirloom
Metodă de procesare: Spălată
Note de degustare: florală, fructe de pădure, aciditate citrică efervescentă
Punctaj SCA: 88

Etiopia este considerată leagănul cafelei de specialitate, renumită fiind datorită poziționării ei lângă pădurea Kaffa, unde soiul Arabica creștea în mod spontan.
Acest lot de cafea specială, provine din regiunea Guji, cultivată de mici fermieri, vestită fiind atât pentru cafeaua excelentă, cât și pentru minele de aur, aici producându-se cea mai mare parte a aurului din Etiopia.
În mod tradițional, fermierii mici din Guji trăiesc în armonie cu natura, cultivă cafea pe suprafețe mici, până la două hectare, având o productivitate destul de scăzută. Înainte de a fi procesate, cireșele coapte sunt culese cu grijă, aduse la stația de spălare și sortate cu mare atenție. Acest proces garantează o calitate excepțională și omogenă a cafelei. În timpul procesului de decorticare, pulpa cireșelor este îndepărtată de pe boabe și lăsate în tancurile de fermentare timp de 24 până la 36 de ore, iar apoi cafeaua este spălată în canale și uscată la soare pe paturi înălțate. Timp de 10 până la 15 zile este lăsată la uscat fiind atent întoarsă de mai multe ori pe zi.
Coffee presentation sheet [pdf]
100% Arabica specialty coffee grown in a specific geographical zone, carefully harvested, processed, selected and freshly roasted in small batches according to it's origin and processing characteristics.
Fast countrywide delivery (Romania), usually within 1-3 working days. The shipping fee is a flat rate of 10 lei*. We also offer free shipping * for all orders starting from 1kg of roasted coffee. Cool, right?
* above conditions apply only for orders within Romania.
We're doing our best so that you can enjoy the coffees on offer. This is why each of our coffees comes with a guarantee of satisfaction according to this policy. You're welcome!